Olivier SPATZIERER - Gastroenterologist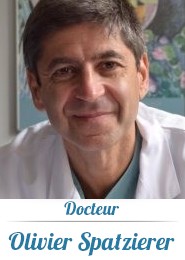 Dr Olivier Spatzierer is very happy to welcome you on this site dedicated to gastroenterology, to its most frequent diseases and to the different investigation methods.
Chronic hepatitis, ulcer, gastroesophageal reflux disease, colon diverticulitis, gastritis, ulcerative colitis - to name only the best-known - are all diseases that require the intervention of a gastroenterologist.
This site has been designed as an extension of the consultation and offers a number of practical information on diseases and different exploratory methods.
But in no way does it replace direct and regular contact with the practitioner. Indeed, the diagnosis of a gastroenterologist is essential, just like the treatment he recommends.
Finally, a section is devoted to nutrition, another specialty of Dr Olivier Spatzierer. She suggests a few ways to eat healthy. But, there again, it is advisable to be careful, especially with regard to the slimming diets: without medical monitoring, they can prove dangerous.
If you would like more information, please send us a message via our contact form.